Concave Mirror
From GeoMod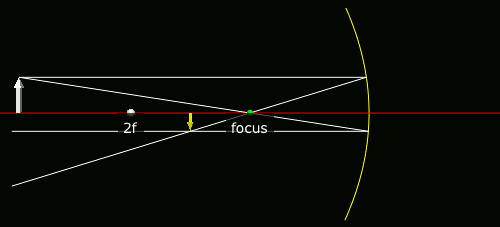 A model that uses a ray diagram to show the image produced by an object in a concave mirror.
The white arrow is the object.

You can move the arrow from side to side by pulling on its base.
You can make the arrow taller by dragging the tip.
The yellow arrow is the image.
The green dot is the focus.
Gallery
Video: http://youtu.be/gH0ERd1PI8Y
Code
mirror-4.py

from visual import *
import subprocess

def take_screenshot(fnum):
    fnum = str(fnum).zfill(3)
    fname = "img-"+fnum+".png"
    #print fname
    cmd = ["screencapture", "-S", fname]
    test = subprocess.Popen( cmd, stdout=subprocess.PIPE).communicate()[0]


class mirror:

    def __init__(self, R=1, a=-1, c=1):
        '''for a parabolic mirror'''
        self.R = R
        self.a = a
        self.c = c
        self.vertex = vector(self.c, 0)
        self.draw_mirror()
        self.draw_focus()
        self.fd = abs(self.focus.x-self.vertex.x)      #focal distance
        self.draw_center()
        self.parallel_rays=[]
        self.focus_rays=[]
        self.parallel_rays_imag=[]
        self.focus_rays_imag=[]
        self.axis = curve(pos=[(-4.0,0),(4.0,0)],color=color.red)
        self.xmin = -3
        self.xmax = 3

    def x(self, y):
        return self.a * y**2 + self.c

    def draw_mirror(self, ny=100):
        y = arange(-self.R, self.R,2.0*self.R/ny)
        x = self.a * y * y + self.c
        
        #print theta, x, y
        mirror = curve(x=x, y=y, color=color.yellow)

    def draw_center(self, point_radius=-9999):
        if point_radius == -9999:
            point_radius = self.R/25.0

        self.center = sphere(pos=(self.vertex.x-(2*self.fd),0,0), radius=point_radius)
        self.two_f_label = label(pos=self.center.pos-vector(.0,.2,0),text="2f",
                                 height=0.1, box=0) 
   
    def draw_focus(self, point_radius=-9999):
        if point_radius == -9999:
            point_radius = self.R/30.0
            
        self.focus = sphere(pos=(self.c+(1.0/(4.0*self.a)),0), radius=point_radius, color=color.green)
        self.focus_label = label(pos=self.focus.pos-vector(0,.2,0),text="focus",
                                 height=0.1, box=0) 
        print "focus = ", self.focus.pos

    def draw_image(self, target):
        self.add_parallel_ray(target.pos+target.axis)
        self.update_parallel_rays(target)
        #self.draw_parallel_rays()
        self.add_focus_ray(target.pos+target.axis)
        self.update_focus_rays(target)
        #self.draw_focus_rays()


        '''find intersection point'''
        line1 = line_eqn_from_last_2_pts_of_curve(self.focus_rays[0])
        line2 = line_eqn_from_last_2_pts_of_curve(self.parallel_rays[0])
        intersect = intersection_of_two_lines(line1,line2)
        #print "intersection point = ", intersect

        self.image = arrow(pos=(intersect.x,0), color=color.yellow,axis=(0,intersect.y,0),shaftwidth=target.shaftwidth)

    def update_image(self, target):
        self.update_parallel_rays(target)
        self.update_focus_rays(target)

        '''find intersection point'''
        line1 = line_eqn_from_last_2_pts_of_curve(self.focus_rays[0])
        line2 = line_eqn_from_last_2_pts_of_curve(self.parallel_rays[0])
        intersect = intersection_of_two_lines(line1,line2)
        #print "intersection point = ", intersect

        self.image.pos = vector(intersect.x,0)
        self.image.axis = vector(0,intersect.y,0)

        #self.image = arrow(pos=(intersect.x,0), color=color.yellow,axis=(),shaftwidth=target.shaftwidth)

    def add_parallel_ray(self, st_pos):
        self.parallel_rays.append(curve(x=arange(0,4)))
        #self.parallel_rays[-1].append(pos=st_pos)
        self.parallel_rays_imag.append(curve(color=color.green, x=arange(0,2)))


    def update_parallel_rays(self, target):
        
        
        for n,i in enumerate(self.parallel_rays):
            xd = abs(i.x[0]-self.vertex.x)
            i.pos[0] = target.pos+target.axis

            '''find intersection point'''
            
            y = i.y[0]
            x = self.x(y)
            intpos=vector(x,y)
            i.pos[1]=intpos

            '''move through focus'''
            i.pos[2]=self.focus.pos
            '''add further point'''
            #line_eqn = line_eqn_from_last_2_pts_of_curve(i)
            line_eqn = line_from_pts(vector(i.pos[1]),vector(i.pos[2]))
            xf = self.xmin
            yf = line_eqn.y(xf)
            i.pos[3]=vector(xf, yf)
            if xd < self.fd:
                '''add imaginary (projected) lines'''
                self.parallel_rays_imag[n].pos[0]=intpos
                imag_line = line_eqn
                self.parallel_rays_imag[n].pos[1]=vector(5,imag_line.y(5))
            else:
                self.parallel_rays_imag[n].pos[0]=vector(0,0)
                self.parallel_rays_imag[n].pos[1]=vector(0,0)
                


            

            
    def add_focus_ray(self, st_pos):
        self.focus_rays.append(curve(x=arange(4)))
        self.focus_rays_imag.append(curve(color=color.green, x=arange(2)))


    def update_focus_rays(self, target):
        #print target.pos
        for n, i in enumerate(self.focus_rays):
            xd = abs(target.pos.x-self.vertex.x)
            #print xd
            
            if (xd > self.fd):
                '''initial position'''
                #print i.pos[0]
                i.pos[0] = target.pos+target.axis
                '''add focus position'''
                i.pos[1]=self.focus.pos
                '''add reflection point'''
                line_eqn = line_from_pts(vector(i.pos[0]),vector(i.pos[1]))
                intpos = self.intersection_with_line(line_eqn)
                i.pos[2]=intpos
                '''add outgoing horizontal line'''
                i.pos[3]=vector(self.xmin,intpos.y)
                '''hide imaginary rays'''
                self.focus_rays_imag[n].pos[0]=vector(0,0)
                imag_line = line_eqn
                self.focus_rays_imag[n].pos[1] = vector(0,0)

            else:
                i.pos[0] = self.focus.pos
                i.pos[1] = target.pos+target.axis
                '''add reflection point'''
                #print i.pos[0], i.pos[1]
                line_eqn = line_from_pts(vector(i.pos[0]),vector(i.pos[1]))
                #print line_eqn.m, line_eqn.b
                intpos = self.intersection_with_line(line_eqn)
                i.pos[2]=intpos
                '''add outgoing horizontal line'''
                i.pos[3]=vector(self.xmin,intpos.y)
                '''add imaginary (projected) lines'''
                self.focus_rays_imag[n].pos[0]=intpos
                imag_line = line_eqn
                self.focus_rays_imag[n].pos[1] = vector(5,intpos.y)
                                

    def intersection_with_line(self, l):
        ''' Line (l) eqn:  y = l.m x + l.b'''
##        a = l.m**2 + 1
##        b = 2 * l.b * l.m
##        c = l.b**2 - self.R**2
        a = l.m * self.a
        b = -1.0
        c = l.m * self.c + l.b
        #print l.m, l.b
        #print a, b, c

        x1 = None
        x2 = None
        

        (y1, y2) = quadratic_formula(a, b, c)

        #print "y1,y2 = ", l.m, self.a, a, b, c, y1, y2
        if y1:
            x1 = self.x(y1)
        if y2:
            x2 = self.x(y2)

        if x1 >= x2:
            return vector(x1, y1)
        else:
            return vector(x2,y2)
                        
            
    
def quadratic_formula(a, b, c):
    s = b**2 - 4.*a*c
    if s >= 0 and a<>0:
        x1 = (-b + sqrt(s))/(2.0*a)
        x2 = (-b - sqrt(s))/(2.0*a)
    else:
        x1 = None
        x2 = None
    return (x1, x2)
                        
def intersection_of_two_lines(line1, line2):
    x = (line2.b - line1.b) / (line1.m - line2.m)
    y = line1.y(x)
    return vector(x, y)
    
            

def line_eqn_from_last_2_pts_of_curve(c, pts=-1):
    p1 = c.pos[pts]
    p2 = c.pos[pts-1]
    m = (p2[1] - p1[1]) / (p2[0] - p1[0])
    b = p1[1] - m * p1[0]
    return (line(m,b))

        
def line_from_pts(p1, p2):
    '''find slope (m) and intercept (b)'''
    m = (p2.y - p1.y) / (p2.x - p1.x)
    b = p1.y - m * p1.x
    return (line(m, b))


class line:
    def __init__(self, m = 0.0, b=0.0):
        self.m = m
        self.b = b
    def y(self, x):
        return self.m * x + self.b


scene = display(title='Mirrors',
     x=0, y=0, width=1000, height=500,
     background=(0,0,0))

scene.range=3.5


reflector = mirror(R = 1.5, a=-0.15, c=2)
scene.center = reflector.focus.pos

target = arrow(shaftwidth=0.05, pos=(-3,0,0), length=0.5, axis=(0,1,0))
dx = 0.01

reflector.draw_image(target)

fnum = 0

by = 0.3 # click this close to tail or tip
drag = None # have not selected tail or tip of arrow
while True:
    rate(40)

    '''move target'''
##    if target.pos.x < reflector.vertex.x-dx:
##        fnum+=1
##        target.pos.x += dx
##        reflector.update_image(target)
##        take_screenshot(fnum)
    
    if scene.mouse.events:
        m1 = scene.mouse.getevent() # obtain event
        if m1.press:
            if mag(target.pos-m1.pos) <= by:
                drag = 'tail' # near tail of arrow
            elif mag((target.pos+target.axis)-m1.pos) <= by:
                drag = 'tip' # near tip of arrow
            drag_pos = m1.pos # save press location
        elif m1.drop: # released at end of drag
            drag = None # end dragging (None is False)
    if drag:
        new_pos = scene.mouse.pos
        if new_pos != drag_pos: # if mouse has moved
            displace = new_pos - drag_pos # moved how far
            drag_pos = new_pos # update drag position
            if drag == 'tail':
                target.pos.x += displace.x # displace the tail
                #reflector.update_focus_rays(target)
                #reflector.update_parallel_rays(target)
                reflector.update_image(target)
            else:
                target.axis.y += displace.y # displace the tip
                #reflector.update_focus_rays(target)
                #reflector.update_parallel_rays(target)
                reflector.update_image(target)