Main Page
From GeoBio
New GeoBiology wiki. A website of Dr. Jennifer Houghton's research projects.
For more information or to obtain a username please contact houghtonj at rhodes.edu
Active Projects
To login to the references page, click here
Hydrology and biomineralization in hydrothermal deposits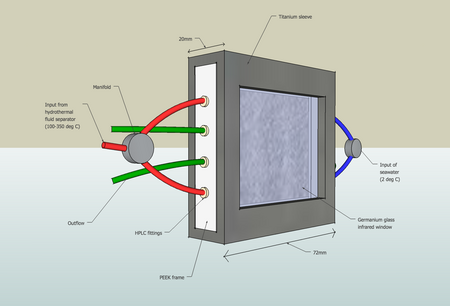 Experimental apparatus to study fluid flow and microbial growth and mineralization in hydrothermal subsurface mixing environments.

Funding for this work was provided by the National Science Foundation (Marine Geology and Geophysics Division)
A biogeochemical database of seafloor hydrothermal vents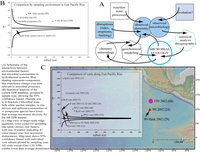 Analysis of microbial diversity at EPR vent sites:
Analysis of microbial diversity at hydrothermal vents in the eastern Pacific
Tools
Scripts to
Download gene sequences from Genbank (based on accession numbers).
Compare sequences for similarity (using bl2seq)
Calculate taxonomic distinctness statistics to assess population diversity (after Clark and Warwick, 1998).
Compute population vs. distinctness funnel to assess relative diversity (after Clark and Warwick, 1998)
Making phylogenetic trees - Charlie Forbes' notes
Markets and Pollution Exercise
Rhodes Projects
Environmental Hydrogeology 2011
Determining and implementing a solution to flooding of a school
Step 1: Study the problem and find the cause of flooding:
Step 2: Solutions tested and recommendations made:
Step 3: Implementing solution:
Friday April 8?
Saturday April 16: A Great Day!
After the rain on Tuesday night (April 19):
Rain on April 20: Caught In the Act: It Works!
After the rain: April 25, 2011
After the rain: April 26, 2011
Memphis Research
In the field with Jennifer Whatley, sampling for chlordane and/or mercury